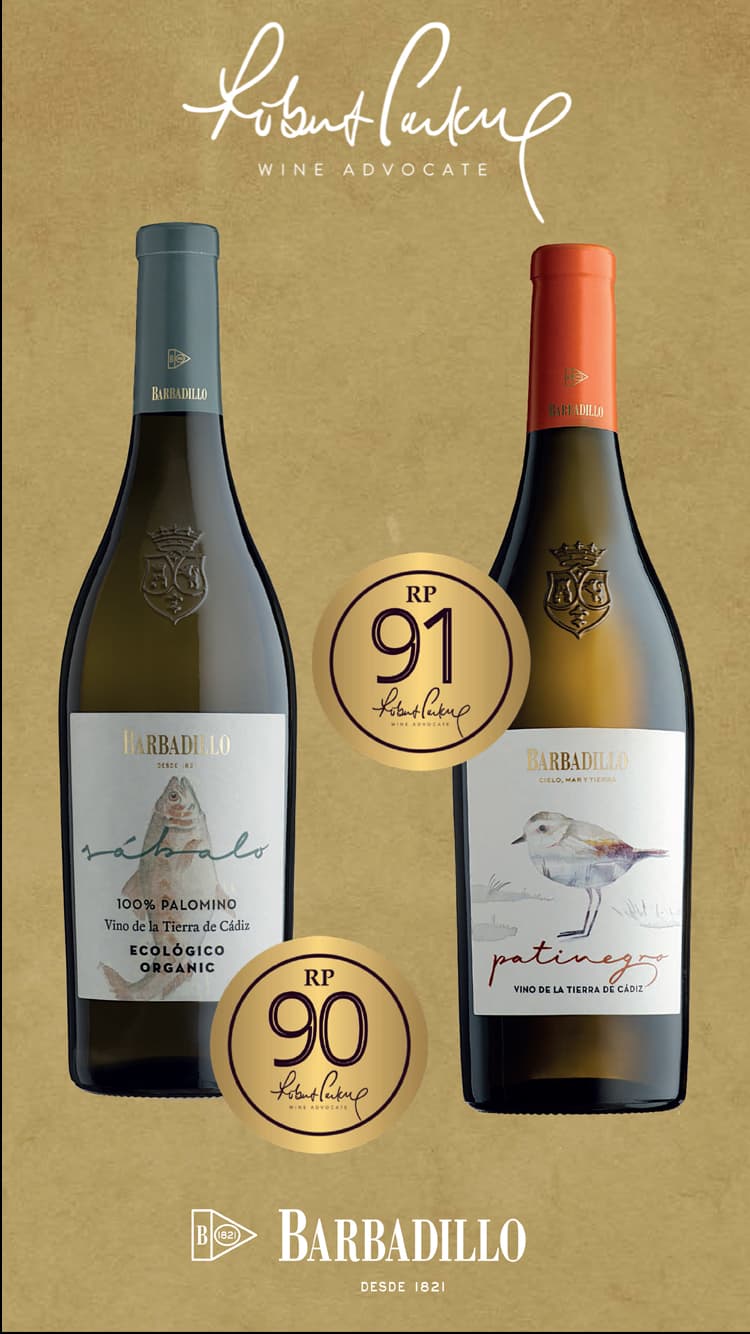 Organic wines from Barbadillo are dressed in gold at the Organic Wine Award International 2022
Sábalo and Patinegro, the two wines from the organic division of Bodegas Barbadillo, repeat success for the second consecutive year at the Organic Wine Award International, the most important organic wine competition in the world, in which they have been awarded two Gold medals.
The two organic whites from the Sanlúcar winery are the only Andalusian wines to win awards in this prestigious competition, in which they have achieved high scores, only surpassed by two other Spanish wines. The Organic Wine Award International, with decades of experience, has had in this year's edition the presence of wines from the 15 most important within the wine sector.

Patinegro has obtained 91 points in the contest.
On the other hand, Patinegro is a limited production wine made from the same Sábalo grapes, to then age for a year in American oak casks, from biological aging under a manzanilla flower veil.
Both organic wines have once again won Gold in this 'autumn' edition of the contest, the first of them, Sábalo, with 90 points, and the second, Patinegro, with 92 points.
According to the director of the Organic Division of the wineries, Carmen Romero: «the two wines that make up our organic line are arousing great interest in the market; Its presence in restaurants in very different parts of the world confirms this".
Romero stresses that, "in addition, the message conveyed by our continuous commitment to transmit the need to preserve the natural and privileged environment of the Cádiz coast is of interest", adding that "to these two wines will be added shortly other new ones, also committed to giving visibility to other aspects of the nature of the area and that will make up a wide range of elegant wines with their own personality, highly committed to sustainability".
The Organic Wine Award International 2022, organized by WINE System AG, is the only competition authorized by the European Union carried out with the PAR-System, an incorruptible tasting system that favors a greater recognition of wines, a precise assignment of organoleptic sensations and a verifiable qualification.
Considered one of the most important tastings in the sector, the results of the contest are universally recognized and serve as guidance and guidance for both winegrowers and consumers.
A sustainable winery
Bodegas Barbadillo currently has the first and only specific certification for the wine sector in terms of environmental sustainability, called Wineries for Climate Protection and known by its acronym WFCP. And it has achieved this thanks to several initiatives, among which its division of organic wines and vinegars stands out.
This WfCP certification is governed by four fundamental pillars: reduction of greenhouse gas emissions, water management, waste reduction and energy efficiency and renewable energy.